LaserViewer™ Software
The LP-4000™ is provided with our proprietary LaserViewer™ data acquisition and reporting software, which is a commercially produced, standard product employing a Windows™-based platform. It is
capable of acquiring and mapping multi-channel laser profilometry data, as well as LaserVideo™ imaging (LVI), laser-scanned FPI and straightness data. As show below, the LVIprovides an image of the component surface similar to that of a borescope. The LVI, however, is unaffected by the optical distortion that is typical for borescopes. It is a quantitative map of the surface reflectance that allows operators to locate and measure features such as chips, scratches and discoloration.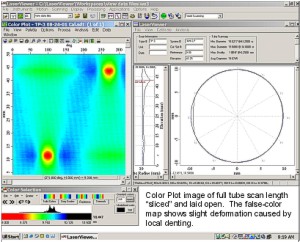 Customizable Operator Interface
A powerful aspect of the LaserViewer™ software package is its ability to be configured for customer-specific applications. In this manner, only functions and views that are specifically required for a given task are displayed to the operator. The graphic user interface can be configured for simplicity of operation and application-specific functionality. In addition, a variety of custom data analysis modules are available with the LaserViewer™ software program.
Motion Control
LaserViewer™ provides a flexible motion control interface with the following features:

Operator-configurable motion control for up to three (3) axis motion
Any combination of stepper-motor or DC servo-motor control for up to three (3) axis of motion
Operator-configurable scan routines for helical, step/increment, raster scans and complex contour-following
Variable scan control with sampling resolution to as low as 0.0005 inch per increment
Operator-activated Forward/Reverse, Go-To, Return-to-Home and Jog routines
Enable/Disable Forward/Reverse motion control
Ability to de-energize motors after each motion
Encoder position display for each axis
Encoder Set, Reset, Set-To and Zero functions
Data Acquisition
Real-time display of calibrated data

Operator-configurable data acquisition routines that can be saved as unique workspaces

Performance calculation showing estimated scan duration, completion time and data rate

Data Acquisition
Color Plot (C-scan) image of calibrated profile and LVI data
Cross-sectional and axial display of surface profile data
LaserVideo™ image of data displaying fine scratches, heat-checking and discoloration
Surface contour display with 256 color, Grayscale, Thermal and Solid Color options for dynamic color pallet
Color palettes provide calibrated spectrums for rainbow, thermal and grayscale displays
Multiple color palette application to any Color Plot display
Analysis modules for post processing of data including but not limited to calculating: area, ovality, max fs diameter, minimum diameter, horizontal reference subtraction, vertical reference subtraction, remove centering offset, remove DC offset, remove undefined data, remove bad data, variable median filter, averaging filter, invert data
Zoom, pan and rotate display functions
Dual image comparison - allowing operators to superimpose two data sets for evaluation and quantitative feature comparison.
File and bitmap image editing and export
Capable of acquiring and displaying multiple data input including laser profile, eddy current, LaserVideo™ image, ultrasonic and laser-excited fluorescent penetrant/magnetic particle data